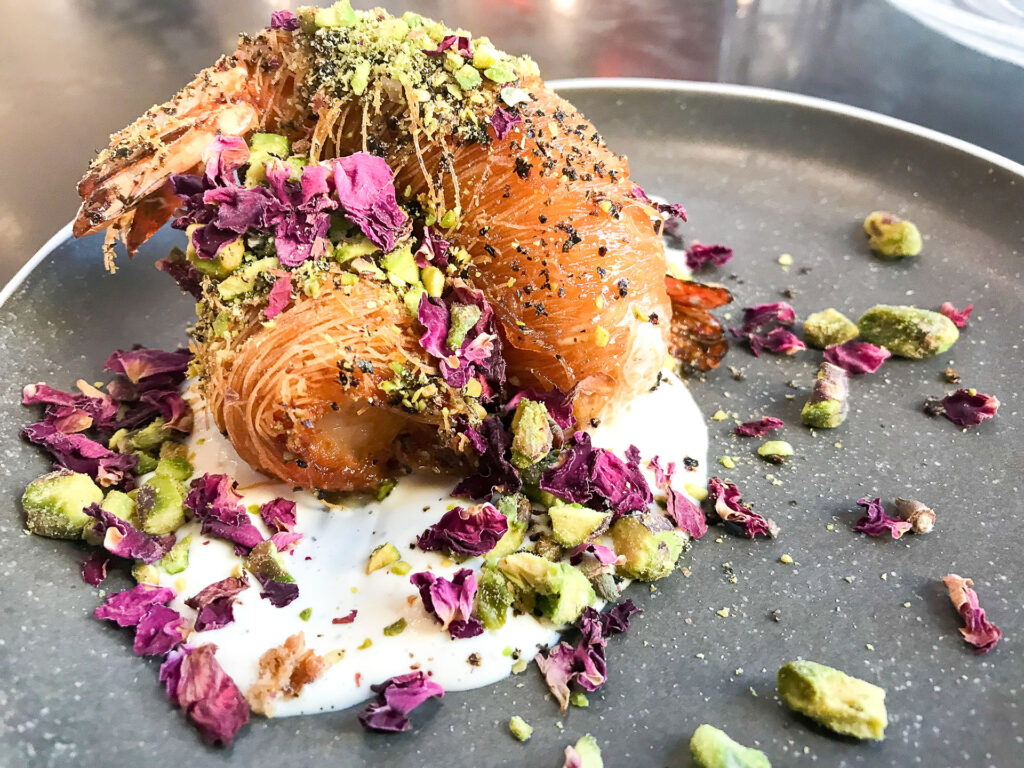 The concept:
The vibrant cuisine of Tel Aviv has been brought to life, courtesy of Chef Eran Tibi who's love of seasonal, fresh produce pays homage to his Israeli roots. Bala Baya is all about the sharing, with a plethora of small plates to choose from. This is a restaurant designed to make you feel right at home, and the delightfully attentive staff are ready to help with those all-important culinary decisions. Just take my word as gospel for all the recommendations below – tried and tested by yours truly!
Best dishes: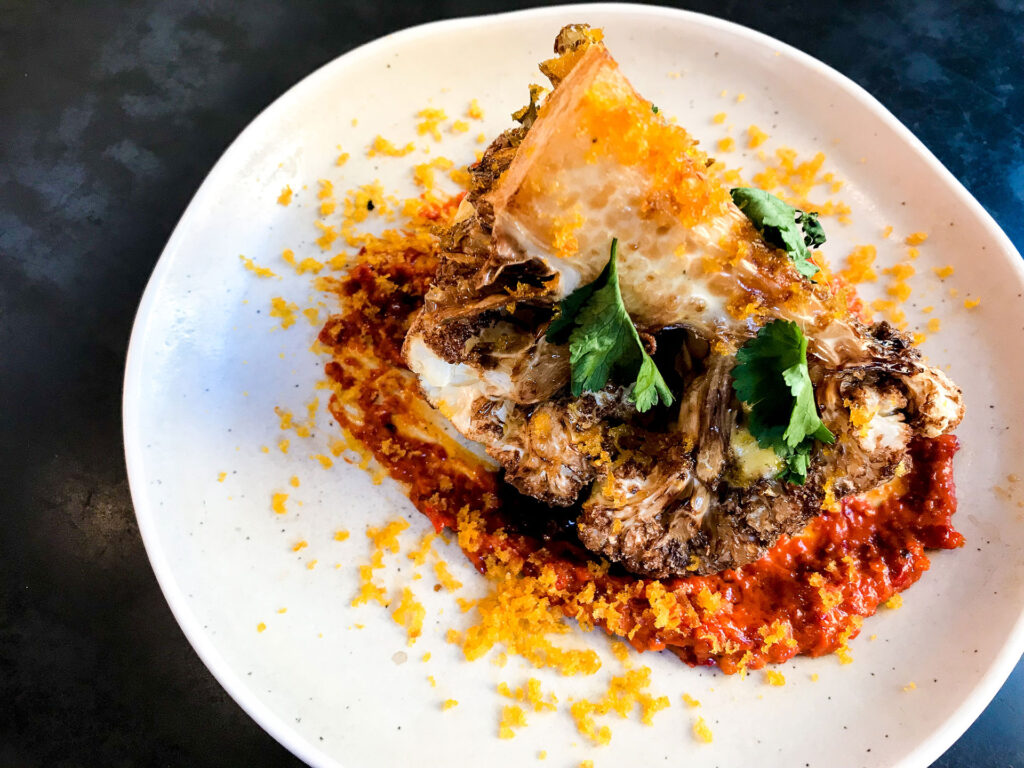 The King Prawn Baklava would instantly be worthy as dish of the day, and long may this utterly divine creation remain on the menu. The succulent, sweet prawns are encased in coating of thin, crispy noodles also known as Kadaif. These savoury, crispy morsels are given a delicious, creamy partner with an accompanying lime cream. A final dusting of sweet, salty pistachios gives some added crunch and additional texture. It's a heavenly dish to look at but even better to eat.
Another shout out to the Cauliflower and Fermented Harissa – an altogether superb vegetable dish that made me fall right back in love with the humble cauliflower. This is a vegetable I generally reserve for when I have an excess of cheddar cheese in the fridge, yet, cauliflower cheese this dish is not. In fact, it's much better. The burnished, perfectly charred outer edges are matched with the accompanying fiery, fermented harissa which gives plenty of kick and tang to overall mellowness of the cauliflower. It's the kind of dish I encounter every so often when I pronounce that if I could cook this well I would become a vegetarian. Alas, I can't cook vegetables anywhere near this well and so restaurants can forever be guaranteed my custom. This dish simply has to be on your to-try list.
Finally, the aptly named Crispy, Sticky, Crunchy which perfectly encapsulates this warming dish. You're presented with a generous mound of crispy chicken thighs, coated in the sublime savoury double act of harissa and kimchi – it's as if they know how to get us addicted! The velvety-soft butternut squash puree adds creaminess, with a final satisfying crunch of toasted hazelnuts. It's the comfort-food dish of dreams.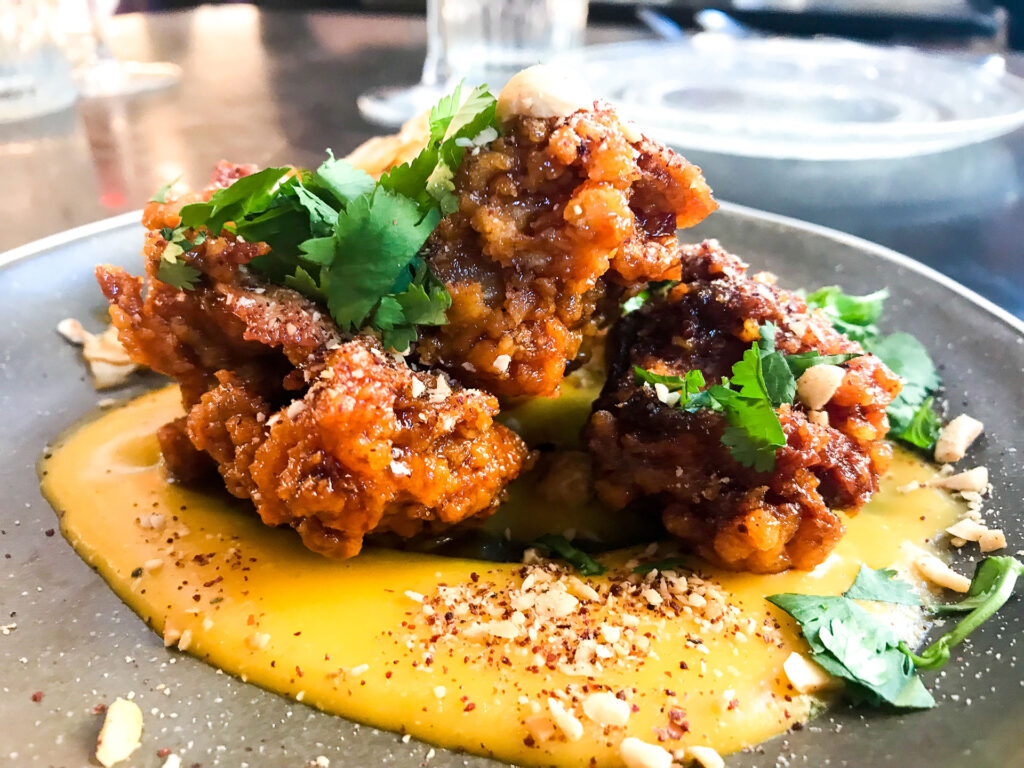 Good for:
Bala Baya was made for those easy weekend brunches and speedy lunchtime eats. The cocktails are as impressive as any bar in town, so it really does cover all bases whichever time of the day you choose to dine. I would suggest taking advantage of their weekend brunch deals as you get a great variety of tempting, small plates.
Current deals:
For weekday eats, they have an excellent Power Lunch option for one, which includes a main, one salad, as well as pita and dip for £17. If you're dining with a friend, they offer the heartier Power Lunch for 2 which includes two mains, two salads, pita and dip for £32. Additionally, you can add on a dessert for £6.
For easy weekend eats, they have all their brunch bases covered. From 10.30am through till 4pm you can choose six small plates including their lemon thyme pita for £10 per person. Dishes include: Aubergine mess, chopped liver and hummus and harissa.
To make a reservation, contact:
Bala Baya
Arch 25
Old Union Yard Arches
229 Union Street
London
SE1 0LR
T: (0)20 8001 7015